Tue, 14 December 2010
Episode 34: Adam and Alicia are Partners in Crime!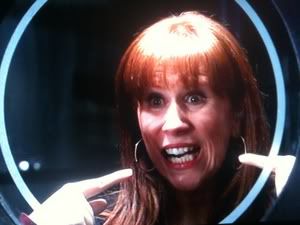 We are unusually excited and honored (or should I say "honoured"?) to be joined by Adam and Alicia from The 20 Megabyte Doctor Who Podcast as we review "Partners in Crime."
This one is a little different. For those of you that have listened to 20 Megabyte, it consists of father-and-daughter team Adam and Alicia snapping and irritating the hell out of each while Adam tries earnestly to talk Doctor Who. This, however, is all lost on Alicia, who uses podcast recording as time to catch up on Facebook or take a nap. This may not sound like your cup of tea as far as Doctor Who podcasts go, but we here at The TARDIS Tavern have been die-hard fans of Adam and Alicia since near their beginning.
This lastest edition of our podcast will not fail to entertain fans of 20 Megabyte. Alicia actually contributes quite a bit, possibly in an attempt to brighten her reputation as The Great Podcast Sabetour (insert dramatic music here). Adam gets just a tiny bit drunk (er, I mean "pissed") and Sean and Steve can barely get a word in. Trust us, folks, this is a good one.
For more information on The 20 Megabyte Doctor Who Podcast, check out their website here: http://the20mbdoctorwhopodcast.podbean.com/.
No feedback this episode. Stop being such a bunch of haters. Send audio or email to tardistavern@gmail.com. Plus join us on Facebook or follow Sean on Twitter: @tardistavern. We know you love us, right?
---
Thu, 25 November 2010
Episode 33: Things Taste Better Poured from a Box: A Look at the Series 5 Boxed Set
Happy Thanksgiving from your friends at The TARDIS Tavern! With the celebration of the domination of the Native American people before us, we review the features and stories contained in the Series 5 Blu-Ray boxed set released earlier this month. What are our favorites stories? Is in-vision commentary necessary? Is it possible that Steve is in love with Arthur Darvill?
Of course, we read a spot of feedback (and some respectful criticism as well). And take note, dear listeners, the Tavern will be open intermittingly through Christmas as we deal with our professional lives. You may look forward to an episode in the meantime, perhaps, but keep in mind we have no intention of shutting our doors permanently.
The artwork of Matt Smith used as a thumbnail was painted by Brad Collins. Take a look at his portraits of other Doctors at http://www.etsy.com/shop/bradcollins.

Please send us some fun audio feedback! And, of course, join us on our Facebook page and follow Sean's ramblings on Twitter via @tardistavern. Happy Thanksgiving!

---
Sun, 7 November 2010
Episode 32: Pot Luck in the Drunk Tank
Something's amiss at the Tavern lately. The gentlemen have gone missing. Have they gone sober? Did they go on vacation? Never! Unfortunately, on the way to the Tavern to record this one, Sean and Steve found themselves absconded by the local authorities, who were not impressed with Steve's decision to urinate on a dumpster or Sean's impression of Carol Channing.
As they say across the pond, things were a bit at sixes and sevens without their usual stomping grounds to record in, so the gentlemen were forced to tape a session more or less off the cuff. With little time to prepare, they each picked a story to watch and review, but there was no time for the other to watch the same story. This is a clumsy and roundabout way of saying we review two stories this episode, and each story will be a surprise to one of us. And we're in the drunk tank. Good times.
Next episode we take a look at the new Season (er, Series) Five box set! We are practically weeing with anticipation over here!
We want feedback, so send it to us as tardistavern@gmail.com. Also, join our Facebook group and follow us on Twitter via @tardistavern. It's good to be back from our one-week hiatus.
---
Tue, 19 October 2010
Episode 31: New Earth, with Moisturizer Provided by The Omega Podcast
Are you in terrible need of some brain bleach after listening to Episode 30? Do you like zombies? Have a disease that needs an instant cure? We travel north of the Mason Dixon line this time and pay a visit to our friends Wendell and Wes from The Omega Podcast. It's a cacophony of accents, and this time there's someone to clean up the peanut shells.
We cast our gaze on the Tenth Doctor story "New Earth," with its cat nurses and zombies. [Editor's Note: Those aren't real zombies. Real zombies eat human flesh and walk really slow. Just sayin'.] We get a little off track because, hey, it's four podcasters talking Doctor Who that have never met before, but it's all in good fun. It was the last time anybody told me I was beautiful.
If you would like to hear more of The Omega Podcast, please check them out here: http://theomegapodcast.org/

Special thanks to all those who provided feedback as well as to Adam from The 20 Megabyte Doctor Who Podcast in advance for being a good sport. Please send us some feedback (audio or video, but we like audio) to tardistavern@gmail.com, join us on Facebook, or follow Sean's drunken tweets at @tardistavern.

---
Fri, 8 October 2010
Episode 30: So it's Come to This: THE DALEK PORN!!!
Back in 2005, an enterprising film crew put together an unbelievably low budget flick featuring naked lesbians and Daleks called Abducted by Daleks. Quite understandly, the BBC put a stop to what they must have perceived as a smear on the reputation of Daleks across the universe and promptly set their lawyers (or solicitors?) on the filmmakers. Rumors say that only about a thousand copies exist, although horny fan boys everywhere have probably produced enough pirate copies as there are sperm in a spoonful of semen.
Although we here at The TARDIS Tavern spoke of the Dalek "porn" as if it were the Holy Grail, we were delighted when we were contacted by a jaunty fellow from Liverpool named Tom Riley who gladly permitted us to, um..."borrow" his copy. We are proud to celebrate our 30th episode with a synopsis and review of this little gem. Enjoy!
As an aside, it is important to note that the term "Dalek porn" is rather a loose term. This is not a hardcore sex flick; there's no penetration, no male nudity, and just a bunch of T&A. Thus, for those of you who are a little soft around the edges, you need not fear to tread here, as our conversation doesn't get into explicit details since there really aren't any. (Come to think of, if you're a little soft around the edges, what are you doing listening to this in the first place?)
Special thanks to Draculasaurus and Adam from the 20 Megabyte Doctor Who Podcast for their audio feedback. We encourage you to send us some at tardistavern@gmail.com. Also, join or Facebook group (we're trying to get more members than The Omega Podcast) and follow Sean's drunken tweets on Twitter via @tardistavern.
---
Sat, 25 September 2010
Episode 29: Flames On the Side of My Face a/k/a Planet of Fire
We are honored and pleased to have Katrina from the popular Bridging the Rift podcast joining us as we talk about "Planet of Fire," hot on the heels of its DVD release.
This was an interesting one, particularly since what you can't hear is over an hour of footage on the cutting room floor in which we discuss such inanity as Star Trek, Star Wars, and The Human Centipede. (Oh wait, maybe that last one was just in my head.)
On a side note, special thanks to Katrina for not only being on our show, but saving the day after Sean's Audacity application froze up midway through the session without his knowledge.
As for next week, we have a very special treat for you. We will be making Doctor Who podcasting history by reviewing something that most fans have never had the pleasure of getting their hands on. Want to take a guess what it is? Discuss below...
We have grown particularly fond of audio feedback, but regular emails are swell too. Send them to tardistavern@gmail.com. If you're into reading people's drunken ramblings, join Sean on Twitter via @tardistavern and also please sign up and say hello on our Facebook page.

---
Thu, 16 September 2010
Episode 28: What Happened Last Night? a/k/a The Mind Robber
Honoring the wishes of that wonderful fellow from Chicago, Lloyd, who won our contest a couple weeks ago, we focus on one of the only six Second Doctor stories that exists in its entirety: "The Mind Robber."
Much can be said about this episode, but because (1) you may as well listen to it as long as you're reading this and (2) I'm just too damn hungry to type anything clever, we'll let you discover the delights of the magical land of make-believe all on your own.
This one's for you, Lloyd
Oh, I almost forgot...no feedback! We know it's the off-season, but someone out there must love us! Please pretty please, send feeback to tardistavern@gmail.com. Also look for our group on Facebook (thanks to those who recently joined!) and follow us on Twitter at @tardistavern.
---
Thu, 2 September 2010
Episode 27: The Masque of Men-Draggin-On
We open our doors with welcome arms to Eric and Josh from the "Mostly Harmless Cutaway" podcast as we review -- between sloshes and swirls -- that old Tom Baker favorite, "The Masque of Mandragora."
Did "Doctor Who" have a "gay agenda" even back then? Can Mandragora energy pilot the TARDIS without anyone knowing? Can you ever have enough wigs? And how does the Doctor walk away with nothing but a handful of sausage? We touch on all these subjects (or at least stumble around them) as we put this compelling historical story under the microscope.
Tune in next time for our look at "The Mind Robber," the story chosen by last episode's contest winner.
Please join us on Facebook subscribe to us on Twitter -- @stevetardistvrn and @tardistavern -- and send us feedback to tardistavern@gmail.com. We'll send you cookies.
---
Mon, 23 August 2010
Episode 26: All About Doctor 11 and The Ring of Steel
Concluding our "Eleven Doctors" series, we chose not to beat a dead horse and review a story which has already been beaten to death by every other podcast. Nevertheless, the rules state we must present you with a podcast about an Eleventh Doctor story, thus we bring you "The Ring of Steel."
"The Ring of What?" you say? Well, once there were these things made out of paper, and the paper was usually sandwiched together with bits of carboard. On the papers were words, and when read in sequence these words tell a story. In fact, I'm told that many of the things we see on television or the movies originated as the these strange paper-word-story things. It just so happens that there are quite a number of these stories -- they're call books, by the way -- that have been published over the years by the BBC and one or two other companies that are actually Doctor Who stories. That's right, brand new original stories...like watching a version of the show but it's all on paper and you can recreate the details in your imagination.
However, we at The TARDIS Tavern do not have time for reading...who can concentrate long enough when you drink yourself to sleep every night anyway. But it just so happens that many of these stories have been released as audio books, the most recent being The Ring of Steel by Stephen Cole (and read by Arthur Darvill, who plays Rory). And that, my dears, is what we will be talking about today.
Oh, and we have some very good feedback as well, the best of which we're saving for last. Plus we announce the winner of our "Abominable Snowmen" contest. For Episode 27 we're having some more guest bartenders, so keep a vigilant ear out.
Feebback and erotic stories may be sent to tardistavern@gmail.com. Follow Sean on Twitter on @tardistavern and Steve @stevetardistvrn. Plus, join our Facebook page...or else.
---
Thu, 19 August 2010
Today, Thursday, 19th is Sean's Birthday. Sean is thirty<cough> <cough> <cough> something years young today. Everyone here at the TARDIS Tavern (just me actually) wish Sean a very happy and safe celebration. His liver would also like to congratulate Sean as it didn't think it would make it through another year.
HAPPY BIRTHDAY SEAN!!!
-Steve
---
Sun, 1 August 2010
Episode 25: The Impossible Podcast into the Satan Pit
So it has come to this. 25 episodes of drunken debauchery and crassness, from giggling about which of the companions we'd snog to serious deliberations on the merits of David Tennat versus Matt Smith. And we plan on delivering at least two more episodes if you guys keep listening.
We continue our "Eleven Doctors" span with the Tenth Doctor in "The Impossible Plant/The Satan Pit." Remember that skinny jumpy guy named David Tennant? You know, the one who always waved around the sonic screwdriver? The one who was falling in love with his companions, or the other way around? No? Then take a trip down memory lane with us way back to 2006 where we'll talk about one of his very first stories.
Special thanks to the usual gang of reprobates for sending us in feedback, and a big bear hug for Wendell from "The Omega Podcast" for providing our very first piece of audio feedback. Also keep an ear open for details on how to win a CD copy of "The Abominable Snowmen" and pick which story we'll review in an upcoming episode.
Send us more feedback at tardistavern@gmail.com and please join us on our Facebook page: Help us get more friends than Professor Dave and "The Omega Podcast" combined. Also follow us both on twitter at @tardistavern and @stevetardistvrn (no A, E, I, O, or U in tavern). Kisses!
---
Tue, 20 July 2010
Episode 24: The Looooooong Game (With 100% More Lillibet!)
And so it's come to this.
I mean, er...we are honored and pleased to have guest bartender Lillibet from the Professor Dave's Ark in Space podcast with us this evening as we explore the Ninth Doctor in "The Long Game."
Frankly, this show was a long time coming, as it was recorded almost three weeks ago and we've recorded Episode 23 since then (timey-wimey), and our memories of this recording are not all that fresh. So fill this space with your comments regarding Christopher Eccleston, Simon Pegg, or maybe even something appropriate regarding this being the first member of the fairer sex along for the ride. (We promised to be really, really polite or else we knew we'd end up with Professor's Dave boot up our ass.)
Hate us? Or want to make passionate love to us? Send us some email at tardistavern@gmail.com, join our Facebook page (we're tied with Professor Dave's page, let's beat 'em), or follow Sean on Twitter @tardistavern or Steve @SteveTARDIStvrn (no A or E in Tavern).
---
Sun, 11 July 2010
Episode 23: Christmas in July! The Chimes of Midnight!
Having just gotten over our hangovers from the Fourth of July, we are craving a little bit of holiday cheer, so we set our sights on The Chimes of Midnight, a Big Finish audio story featuring the Eighth Doctor, making it the eighth in our "Eleven Doctors" series.
There's talk of plum pudding, worthless scullery maids, Edward Grove, and merry murder. Oh, and a dollop of feedback as well from a couple of our usual listeners, including the usual editorial corrections. (Thanks, Erik!)
Spoliers abound, faithful listeners, so if you have plans to ever listen to "The Chimes of Midnight," then fuck that and just listen to us instead.
Keep your ears peeled for next time when we talk about the Ninth Doctor in "The Long Game" with yet another guest bartender. We're keeping the guest's identity secret for the time being, but let's just say it's someone of the fairer sex from another podcast.
If you send us feedback, we'll send you some pictures of kitties. So stop what you're doing right now (unless you're driving, then put down the iPhone and keep your eyes on the road), and email us at tardistavern@gmail.com. Follow Sean on Twitter at @tardistvern or Steve at @stevetardistvrn (no A or E in tavern). Plus be a part of our Facebook page, where we regularly serve free pie and punch.
---
Sun, 4 July 2010
Episode 22: The Greatest Show in the Galasquee!
There is no better way to celebrate the Fourth of July than by watching Barack Obama rapping while dressed in a red, white, and blue ringmaster's costume. And so we present you with "The Greatest Show in the Galaxy," our Seventh Doctor installment in our "Eleven Doctors" series (formerly known as our "Ten Doctors" series because bow ties are cool).
Aside from the standard review, we read and respond to feedback - some favorable and some not so favorable - and give a shout out to a couple other podcasts that you may not have heard about.
Once again, we beg you to send us your thoughts at tardistavern@gmail.com, join us on our Facebook page, and follow us on Twitter (Sean is tardistavern and Steve is stevetardistvrn).
---
Tue, 15 June 2010
Episode 21: Some Very Special Sweet Meat and The Mark of the Rani
We are proud and pleased to present guest bartender Erik from the excellent Briding the Rift podcast to the Tavern! We are especially pleased that he knows how to keep our glasses full and never judges if we drink a triple scotch. We are glad that he is here to celebrate the release of Episode 21, as we're now legal to drink in the United States.
The topic this time is "The Mark of the Rani," as we don our tacky patchwork coats and celebrate the era of the Sixth Doctor for our "Ten Doctors" series. We were going to pay tribute to Nicola Bryant by sporting fake English accents, but that would be just wrong.
For the first time, we have no feedback! Does that mean we suck? Are we just a couple of tits? Prove it otherwise by sending us feedback at tardistavern@gmail, give us happy ratings on iTunes (we're now on the first page with all the other grown-up Doctor Who podcasts), join our Facebook group, follow Sean on Twitter @tardistavern and Steve @steveTARDIStvrn.
Also big thanks to the Australian heavy metal band LORD for the mix at the end of the show. For more info on their music and tour dates please visit their site at www.lord.net.au.
---
Tue, 1 June 2010
Episode 20: Scraping the Bottom of the Big Finish Barrel a/k/a Red Dawn
Episode 20 marks the halfway point of our "Ten Doctors" series, so of course we're turning our sights to a Fifth Doctor story as we steer away from our traditional tavern for a change and enjoy drinks in the on-board lounge of the Red Dwarf mining ship.
This time we review Red Dawn, a Big Finish production featuring the Fifth Doctor, Peri, and the Ice Warriors. If you're a Big Finish fan, it's likely that you have some idea of what's going to happen this time, and if you're not a Big Finish fan, then we encourage you to take a listen anyway, and poo on you if you don't.
For next time, we'll peek at the Sixth Doctor in "The Mark of the Rani" with guest bartender Erik from the Bridging the Rift podcast.
Drop us a line and tell us what you think at tardistavern@gmail.com. Please join us on Facebook, follow Sean on Twitter (@tardistavern), and follow Steve as well (@steveTARDIStvrn).
---
Thu, 20 May 2010
Episode 19: Har-dee-Har of Fang Rock!
In this very special episode of The TARDIS Tavern, Sean and Steve rescue a kitten from a burning house and then give it away to an orphan before saving an old lady from being hit by a bus. After that, they headed over to The Magic Time Machine restaurant in beautiful (sorry, I just threw in my mouth a little) Dallas, Texas for a "live" in-person recording.
The gentlemen set their sights on "The Horror of Fang Rock," the epitome of Doctor Who meeting Hammer horror. Will there be disention among them? Or will they agree merrily that the story totally sucks or is as wonderful as the cries of a newborn?
Since this recording, Steve has announced that for the next episode, focusing on a Fifth Doctor story, we will review Red Dawn, a Big Finish production featuring Georgia Moffett and the Ice Warriorsssssssss.
Oh yeah, we also have feedback and stuff.
Speaking of feedback, please send yours to tardistavern@gmail.com, join us on Facebook, or look for Sean on Twitter as tardistavern and Steve as stevetardistvrn.
Credit goes to synthetic_messiah (from whomix.trilete.net) for the doc in trouble mix at the end of the show.
---
Sat, 8 May 2010
Episode 18: From Inside the Miniscope, it's "Carnival of Monsters"
In the most heated debate yet, Sean and Steve get at it over "Carnival of Monsters." As a result, Sean has a black eye and is whining about how it's unfair to hit a guy with glasses.

Continuing our span of "Ten Doctors" and ten stories reviewed, Steve (1) shouted out his safe word when it came time to pick a Jon Pertwee story (like hello, Steve, don't you want to watch "Colony in Space"?) and (2) will piss of legions of Pertwee fans who care to listen to this episode. Sean, in the meantime, made the mistake of getting really drunk before recording the show. In his defense, however, he was watching Survivor prior to the recording and steadfastly maintains that you can't watch Survivor without being drunk. (Ed's note: Sean is a little toasted even as he's typing this because they're showing reruns of RuPaul's Drag Race.)

Oh, and we couldn't resist chatting about the current series. Of course, there's the usual blip of feedback and an announcement that we've received our first bit of fan art!
Send us feedback, bitches. It goes to tardistavern@gmail.com. Also follow us on Twitter (tardistavern for Sean and stevetardistvrn for the other one). Also look for us on Facebook.

---
Mon, 19 April 2010
Episode 17: The Victory of The Power of the Daleks
Continuing our "Ten Doctors" series, we turn our backs to the Hartnell era and plunge heads-first into "The Power of the Daleks," the first story with Patrick Troughton as the Second Doctor.
Unfortunately, as someone at the BBC years ago went on a drunken rampage and scrapped a number of reels, this story no longer exists on film. However, thanks to a legion of geeks who mastered the art of recording episodes with microphones for future playback, we have the luxury of listening to this little gem via the soundtrack available from BBC Radio.
In case you're wondering, it's pure coincidence that we recorded this on the evening that "Victory of the Daleks" premiered, as the two stories have some similarities but exists on opposite ends of the spectrum in regards of quality, if you ask me. So please enjoy this latest episode of The TARDIS Tavern and continue to send feedback to tardistavern@gmail.com, find us on Facebook, and join us on Twitter.
A big thanks goes to dArkpEon (from whomix.trilete.net) for the Doctor Who - In Diaboladalekium (Brown Legions) mix at the end of the show.
---
Mon, 19 April 2010
I have good news for those that can't get enough of the TARDIS Tavern drunken goodness. Lately Sean and myself have been doing the guest co-host scene for other Doctor Who podcasts.
Sean recently did a gig over at the Hoo on Who podcast (Episode 21). David, Marty, and Sean review and discuss the classic Pertwee episode The Three Doctors. They go into detail on the North American DVD release and even discuss Gallifrey 21. David giving Sean a single potty break is one of many humorous moments during the show.
I recently poped up as gust co-host on The Doctor Who Podcast (Episode 5). Trev and Tom are both very gracious as we discuss the fan reaction to The Beast Below. While I wasn't downing any vodka martinis during the 4:00 AM recording time I do go through multiple cups of coffee. I'm surprised at how coherent I sound so early in the morning. For a funny behind the scenes moment keep listening after the outro music.
It seems Sean and I are spreading out across different podcasts like a bad case of VD.
-Steve
---
Sun, 4 April 2010
Episode 16: In Celebration of Matt Smith We Present...The Gunfighters!
Since this is probably the biggest week in Doctor Who since the inception of this podcast (of course, we're like four months old, but who's counting?), we're celebrating by beginning our "Ten Doctors" marathon and by bringing you "The Gunfighters." Yeah, you're darn tootin'.*
Since neither of us have seen this story in a long, long time we rather overestimated the time we were going to spend talking about it, so please enjoy this light and frothy edition of The TARDIS Tavern.
We have one piece of feedback to share with you, and just a dollop of chatter regarding "The Eleventh Hour," which remains unseen as of this writing. You have no idea how we can appreciate the irony that although "The Gunfighters" remains fresh in our minds, we have yet to indulge in the event that is casung nerdgasms across the globe.
Next week: "The Power of the Daleks." And, yes, spoilers shall abound!
*Don't worry, we ditch the Western accents about five minutes in.
Don't like this episode? Then shove a sock in it and email us at tardistavern@gmail.com. Join us on Facebook and Twitter as well...turns out this Twitter thing is rather popular!
Special acknowledgements to Steven Regret for The Ballad of the Last Chance Saloon at the end of the show.
---
Wed, 31 March 2010
Episode 15: The Arc of Infinity and Beyond! (With 100% More Podshock!)
Following through on our fine tradition of having fellow podcasters bartend for us (tradition being, like twice so far), we are joined by Louis Trapani of Doctor Who: Podshock, who serves up a mean Long Island iced tea.
After generally meandering into the nerdery and the gushing that most fans exude when first meeting (thanks, Steve), we turn our double-sighted attention to "The Arc of Infinity," John Nathan-Turner's ubiquitous sequel to "The Three Doctors."
Will tempers flare amonngst the three of them as they disgaree on whether or not this is the best episode ever? Are you happy to see me or is that an impulse laser in your hands? And will Steve ever let Sean talk? Find out now and download this little collector's item from the library of The TARDIS Tavern.
Sorry, Erik, no feedback this episode...but tune in next week for some very, very special feedback as we trip the light camptastic with "The Gunfighters."
What's that you say? Did we get our facts wrong again? Fuck! Then let us know at tardistavern@gmail.com. Also find us on Facebook and follow us on Twitter.
Credit goes to sobermo (from whomix.trilete.net) for the Surfwho mix at the end of the show.
---
Sat, 27 March 2010
As Sean can tell you I'm not one for wearing a 20 ft long Doctor Who scarf in my everyday sober life. I've always wanted to proudly show off my affection for the show but without looking like I just came from L.A.'s Comic Con. Until recently… While on my daily eBay search I ran across a knitter that specializes in making Tom Baker's season 15 iconic scarf for everyday wear. The scarf is a manageable 8 ft in length and 2 3/4 in wide. Also, the color proportions are correctly measured down to size.
While I have no financial gain from endorsing this product, I wanted to share my enthusiasm about the talent of this knitter. You can check her out on eBay under the user ID: fillyjonk55
I also understand that she is working on a season 18 mini scarf and is available for custom work too.
-Steve
---
Sun, 21 March 2010
Episode 14: The Keeper of Traken and its Big Finish Love Child (Now with More Bathroom Humor!)
Putting Gallifrey 21 and would could have and couldn't have happened behind us, we go back to our rumdum duties of reviewing Doctor Who stories. In this poop-smothered episode we examine "The Keeper of Traken" and its Big Finish sequel/prequel "Primevil."
"The Keeper of Traken" ranked 70th in Doctor Who Magazine's "Mighty 200" poll, but is a story revolving around a society that functions merely because people are terribly nice to each other worth breaking the bank to satisfy the BBC's costume budget?
"Primevil," featuring the Fifth Doctor and Nyssa and taking place 3,000 years prior to the events of "Keeper," tries to settle the age-old debate of whether blind faith and religion will ever win out over logic and reason. Perhaps fortunately, that's the deepest insight that you'll find on this subject even after listening to the episode.
We also have our usual battery of feedback and a huge dollop of Traken bathroom humor.
Please send feeback, ransom notes, and PayPal transactions to Sean at tardistavern@gmail.com. Also follow us on Twitter and befriend us on the Book of Face!
A big thanks goes to Angel Mendez (from whomix.trilete.net) for the Who Rocks The Party That Rocks The Tardis mix at the end of the show.
---
Mon, 8 March 2010
Episode 13: A Look Back at Gallifrey 21
Steve arrives to pick Sean up from the airport after Gallifrey 21, and they spend some time in the airport bar looking back at the weekend. There are some regrets, high points, drunk points, and new friends spoken of fondly. We also relish in the feedback and, prompted by a friend, chat a bit about the show's future and what will ever happen if the Doctor runs out of regenerations. (Like as if!)
Stay tuned week after next when we review "The Keeper of Traken" as well as the Big Finish prequel, Primevil.
As always, please send feedback and complaints about Steve's petulant comments to tardistavern@gmail.com. Feedback makes us feel validated after we look at our download figures.
Special acknowledgment goes to Eaglestriker (from whomix.trilete.net) for the Dark Fairytale mix at the end of the show.
---
Sat, 27 February 2010
Episode 12: Sea Devils?? More like Chicken of the Sea.
In our dozenth episode, we examine the merits of the new BBC trailer, including a deep analysis of whether or not Matt Smith will indeed be sticking his tongue down Karen Gillan's throat.
Then, to commemorate the release of our 12th episode, we review "The Sea Devils," which just happens to have 12 letters in it, a fact which had nothing to do with our choosing of the episode but has everything to do with needing filler for the show notes.
Finally, we read (and respond) to some tactful, but nevertheless critical, feedback from one of the show's loyal listeners and talk a bit about Gallifrey 2010...speaking if which, be prepared for our complete review of Galley in Episode 13!
Please send hate mail, circus animals, and belated Valentine's Day regards to tardistavern@gmail.com. Do it now, while you're happy and drunk at the LAX Marriott.
Special acknowledgment goes to Eaglestriker (from whomix.trilete.net) for the Last of the Timelords MkII mix at the end of the show.
---
Thu, 18 February 2010
Episode 11: A Big Finish Primer or: Let's Pretend We're British and Listen to Some Audio Plays
This episode is especially dedicated to our North American listeners who have heard of, but have always been reluctant, to listen to Big Finish.
Sean and Steve give their take on "The One Doctor," one of the most popular stories in the Big Finish line, and then review "Iris Wildthyme: The Panda Invasion," Big Finish's hilarious and succesful spin-off of their Doctor Who series (think Timelady + gin and tonics + a stuffed talking panda bear companion).
Surprisingsly, we're proud to announce we have nothing jaded or nasty to say this episode, so please enjoy! There's also a bit of feedback from a loyal follower and, since we received no emails from listeners wanting Gadget back, we have a new bartender. Who will it be? (Here's a hint: Think cotton candy spandex and red hair.)
Next week we finally take a peek at Jon Pertwee in "The Sea Devils."
Where has all the lovely feedback gone? Please send it to tardistavern@gmail.com, join us and leave a comment on Facebook, and/or leave us some jolly feedback on iTunes! Do it now, while there's nothing to watch on TV.
Special acknowledgment goes to ZerOsen (from whomix.trilete.net) for the ZerOsen mix at the end of the show.
---
Sun, 7 February 2010
Episode 10: Our Tenth Doctor Retrospective [#*#*#*#*#GADGET GADGET HELP THEY'VE GOT ME#*#*#*#*#]
To commemorate our tenth episode, we take an in-depth look at Agatha Christie's Ten Little Indians. But then we switched to Plan B and, in what is our longest episode yet, discussed each and every Tenth Doctor story. It's like 36 mini-reviews in one! And since the Johnny Walker and red wine were flowing freely, things might start getting a little wibbly-wobbly there in the end. Plus, we have some very sweet feedback from some very beautiful, very darling listeners. Has anyone seen Gadget?
Please send feedback, complaints about Steve, and applications for new bartenders to us at tardistavern@gmail.com.
Special acknowledgment goes to King (from whomix.trilete.net) for the Darkness of the Doctor mix at the end of the show.
---
Wed, 27 January 2010
Episode 9: We are Amused by Tooth and Claw
To commemorate our ninth episode, we welcome "guest bartender" and fellow Who podcaster Dave Hooie from Hoo on Who, who has nine letters in his name! We talk about queens in Doctor Who, visual graphics, and the progression of David Tennant's Doctor. Also, a record is set as we read two (2) feedback emails from adoring fans. We also touch on this year's Gallifrey in Los Angeles.
Join us on Facebook or send feedback or complaints about Steve to tardistavern@gmail.com. Keep it coming, people! All writers will be eligible for a drawing in which the winner will receive a video of Sean getting his chest waxed.
Special acknowledgment goes to Doctor Quien (from whomix.trilete.net) for the Aborigen Celestial mix at the end of the show.
---
Thu, 14 January 2010
Episode 8: Party Like it's 1999 with Paul McGann
To commemorate our eighth episode, we review the 1996 TV movie featuring the Eighth Doctor. We also party like it's 1999 with a little bit of feedback ("little bit" = one fucking email) and nurse our hangovers from the second part of "The End of Time." (And, of course, we regret even bringing it up in Episode 7 in the first place.) Also, much to Steve's chagrin, Gadget the bartender has been replaced by someone or something new.

Help us celebrate our ascent into 2010: We're finally on Facebook with everyone else, so join our group or email us at tardistavern@gmail.com. Seriously. Pod Shock doesn't need more emails, so send us something, will you please?

Special acknowledgment goes to Lowroller (from whomix.trilete.net) for the Lowroller Mix at the end of the show.
---
Fri, 8 January 2010
Episode 7: All Things Craptastic, 90% Free of TEOT
"The End of Time" is sooooo last week. That being said, we take a look at some of the more loathesome bits of Doctor Who.
We ponder what the hell Dimensions in Time is all about (and write us to let us know if you have a clue), the incredible amount of smoking, drinking, and homoerotic imagery in K-9 and Company, and why anoyone would let Nicholas Courtney near a microphone in Doctor in Distress.
But could we really help ourselves? Could we really not talk about "The End of Time?" No. We spend the last few minutes of the episode briefly discussing our likes and dislikes about this story and dropping a little path of rose petals for Matt Smith's arrival.
Please send comments and/or feedback to tardistavern@gmail.com. Seriously. Send us some goddam feedback. Maybe we'll make the pain stop.
Special acknowledgment goes to exilea (from whomix.trilete.net) for the Metal Who mix at the end of the show.
---