Tue, 14 December 2010
Episode 34: Adam and Alicia are Partners in Crime!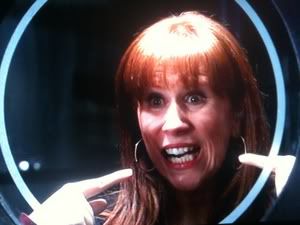 We are unusually excited and honored (or should I say "honoured"?) to be joined by Adam and Alicia from The 20 Megabyte Doctor Who Podcast as we review "Partners in Crime."
This one is a little different. For those of you that have listened to 20 Megabyte, it consists of father-and-daughter team Adam and Alicia snapping and irritating the hell out of each while Adam tries earnestly to talk Doctor Who. This, however, is all lost on Alicia, who uses podcast recording as time to catch up on Facebook or take a nap. This may not sound like your cup of tea as far as Doctor Who podcasts go, but we here at The TARDIS Tavern have been die-hard fans of Adam and Alicia since near their beginning.
This lastest edition of our podcast will not fail to entertain fans of 20 Megabyte. Alicia actually contributes quite a bit, possibly in an attempt to brighten her reputation as The Great Podcast Sabetour (insert dramatic music here). Adam gets just a tiny bit drunk (er, I mean "pissed") and Sean and Steve can barely get a word in. Trust us, folks, this is a good one.
For more information on The 20 Megabyte Doctor Who Podcast, check out their website here: http://the20mbdoctorwhopodcast.podbean.com/.
No feedback this episode. Stop being such a bunch of haters. Send audio or email to tardistavern@gmail.com. Plus join us on Facebook or follow Sean on Twitter: @tardistavern. We know you love us, right?
---